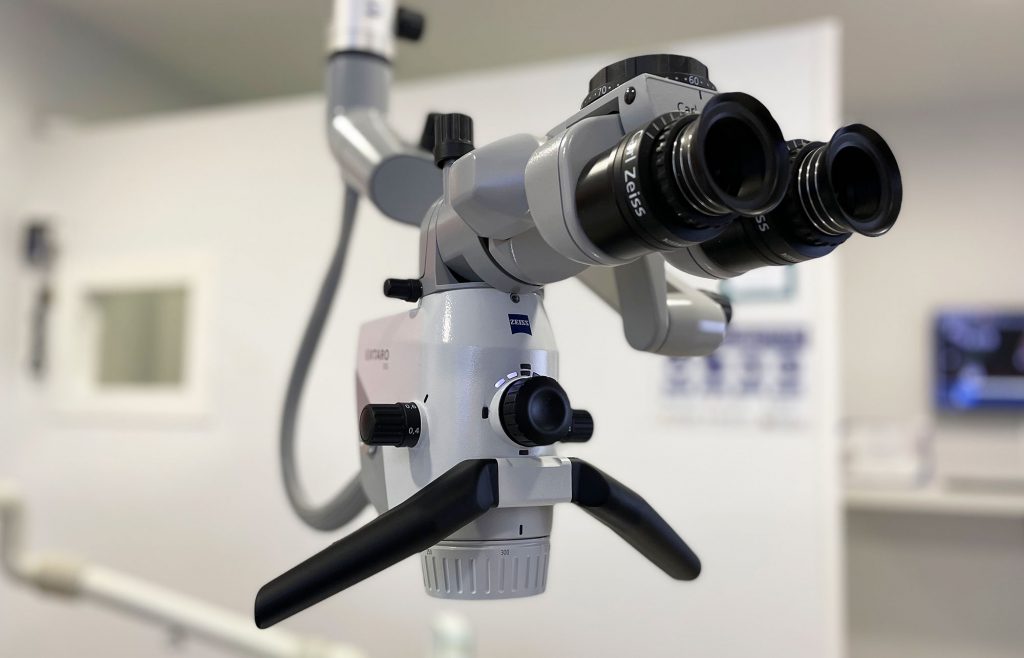 The use of the microscope during a root canal treatment or apical surgery is one of the main keys to achieve the highest quality of the treatment and its success.
This allows the endodontist to observe microscopic details that go unnoticed with the naked eye.
The main challenge for an endodontist is to work in a millimeter space, which is also difficult to access. The teeth have one or multiple canals inside them depending on the type of tooth. These canals are very narrow, making them very difficult to locate with the naked eye or with magnifying glasses, for which the use of a microscope and specific professional training are essential.
There are many studies that show that errors in the location of these root canals are one of the main causes of root canal failure.
Unfortunately, without the use of a microscope, these anatomical complexities often cannot be adequately addressed.
Image taken with a microscope of the interior of a molar, showing its dimensions.
What is the microscope that we use?
Our microscope is the latest generation and it has Super LED lighting. It allows a very high magnification, managing to increase up to 26 times what we see with the naked eye.
In addition, it projects a powerful illumination that literally enters the interior of the treated tooth. This Super LED light is coaxial, illuminating exactly the area being viewed.
It also has different filters for a more predictable treatment.
The microscope is also used in all phases of the treatment, to be more conservative and to work with maximum precision in each phase.
Both doctors have been trained with specific training in Microscopic Endodontics and have extensive experience in this field.
«Imagine multiplying by 26 the precision of expert hands»
TOTALLY CUSTOMIZEDTREATMENTS
Cutting edge technology for excellence
In addition to the microscope, we have the latest advances in Endodontics, for example, in diagnosis, we use three-dimensional radiological techniques (CBCT).
Our CBCT, specific for Endodontics and Dental Traumatology, is the diagnostic method of choice in complex cases, such as retreatments, dental trauma, calcified canals, etc.
The advantages of having high resolution CBCT, specific for Endodontics and Dental Traumatology, in our own facilities, are multiple:
Unnecessary delays in diagnosis are avoided, it allows digital planning of complex cases and also makes it possible to take intraoperative scans in cases of high difficulty, such as the management of calcified canals.
Today, the use of CBCT in complex cases not only helps in the diagnosis but also allows less invasive and guided treatments.